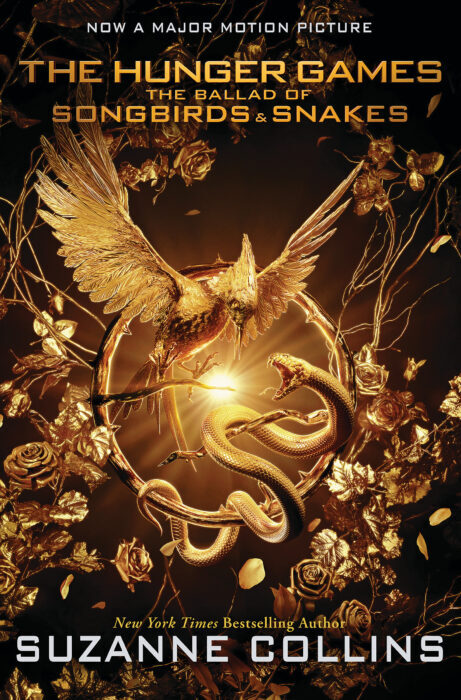 The Hunger Games: The Ballad of Songbirds and Snakes
In Theatres Now!
#1 USA TODAY BESTSELLER
#1 NEW YORK TIMES BESTSELLER
#1 WALL STREET JOURNAL BESTSELLER
#1 PUBLISHERS WEEKLY BESTSELLER
A BARNES & NOBLE BEST YA SCIENCE FICTION AND FANTASY BOOK OF 2020
AN AMAZON BEST SCIENCE FICTION AND FANTASY BOOK OF 2020
A NEW YORK TIMES EDITORS' CHOICE
2020 GOODREADS CHOICE AWARD FINAL ROUND--YA FANTASY
WATERSTONES BEST BOOKS OF 2020: SCIENCE FICTION & FANTASY
COSMOPOLITAN'S 20 BEST YA BOOKS OF 2020
TODAY'S BEST YA BOOKS OF 2020
2021 KIDS' BOOK CHOICE AWARDS FINALIST
BEST FANTASY WORLD BUILDER
SUZANNE COLLINS/THE BALLAD OF SONGBIRDS AND SNAKES
A HUNGER GAMES NOVEL
"'The Ballad of Songbirds and Snakes' delivers a mesmerizing look into the life of Coriolanus Snow and the root causes of his villainous behavior. Collins once again proves that she is a master of building a fascinating world around complex characters who must grapple with the complications of chaos and control and their effects on human nature."
--The Associated Press
"It's the pull between Coryo's head and heart — and the realization that he actually has a beating heart, not just a rose-scented lump of coal — that makes the future President Snow very worthy of a 517-page prequel."
--The Washington Post
"Both a tense, character-driven piece and a cautionary tale...The twists and heartbreaks captivate despite tragic inevitabilities."
--Kirkus Reviews, STARRED REVIEW
"If you read The Hunger Games in one sitting, settle in for the long haul once more—because The Ballad of Songbirds and Snakes is nearly impossible to put down...The Ballad of Songbirds and Snakes is incredibly exciting, thought-provoking, and relevant."
--Amazon Book Review
"A sleek Hunger Games prequel...The plot of the novel rests on deception and pretence, its view of humanity bleak; yet Collins's themes of friendship, betrayal, authority and oppression, as well as the extra layers of lore about mockingjays and Capitol's history, will please and thrill."
--The Guardian
"A gripping mix of whipsaw plot twists and propulsive writing make this story's complex issues—vulnerability and abuse, personal responsibility, and institutionalized power dynamics—vivid and personal."
--Publishers Weekly
"Fans will appreciate revisiting the world of Panem, and teens may relate to Coriolanus beginning to grapple with big ideas like human nature and whether people on opposite sides of a war are fundamentally different."
--School Library Journal
"A Hunger Games without Everdeen might have seemed as peculiar as a Potter without Harry, but it works beautifully, largely thanks to a new character. The clever, charismatic precursor, Lucy Baird Gray, a Covey (a sort of gypsy) who is chosen to represent District 12 in the tenth Games. She is a folk singer of prophetic ballads and has a thing about snakes. She is gorgeous, of course, in her late mother's old rainbow dress (the casting for the film, confirmed by Lionsgate, will be fun)."
--The Times
"[B]y introducing a new cast of teenagers, Collins is able to raise questions about privilege, the uses of violence, and the futility of war."
--People
"It is a steep challenge to write a book whose hero is, everyone knows, destined to become deeply evil. Do we want to hear — now, after we know the endgame — that the young Voldemort was unfairly saddled with a demerit in class or that the adolescent Sauron fretted because he had to wear hand-me-down clothes? Yes, please."
--The New York Times, Sarah Lyall
"..."The Ballad of Songbirds and Snakes'" clever exploration of the world and how its perverse forms of entertainment and control came to be are bound to satisfy fans. It may not be a particularly comforting form of escapism, but Collins' uneasy, thought-provoking prequel is absorbing all the same."
--Insider
"The Ballad of Songbirds and Snakes describes how most lives are actually lived, the consequences of countless small choices that ultimately amount to a big one: not just how to feel but who to be."
--Slate Magazine
"The Ballad of Songbirds and Snakes is a darkly satisfying origin story...It's a reminder of the power of propaganda — how putting the veneer of a good narrative atop any awful thing can get people to believe the message."
--Polygon
"The Ballad of Songbirds and Snakes...confirms Collins as a master of dystopian YA, able to spin engaging tales around deeply flawed characters and societies."
--New York Journal of Books
"The Ballad of Songbirds and Snakes builds on the original series' overt critique of violence and those who perpetuate it, again in terms that speak to a more mature audience than their young-adult marketing might suggest. For true fans of The Hunger Games, Collins shines most as she weaves in tantalizing details that lend depth to the gruesome world she created in the original series and Coriolanus's place in its history."
--Time Magazine